TEDxBINUSUniversity: EXPLOUD – Explore Understand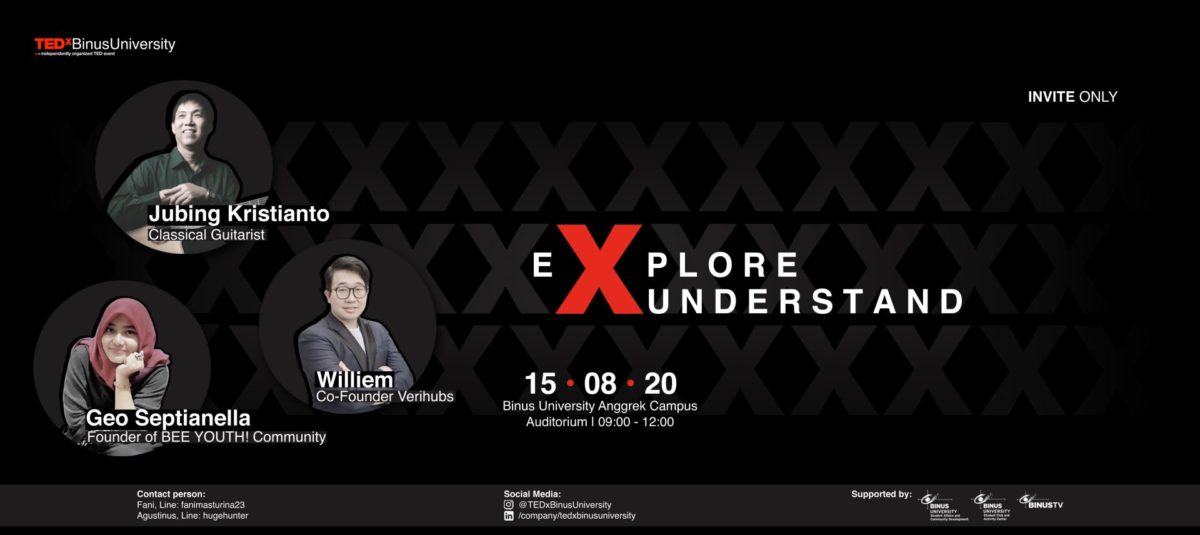 We believe in people development because in the world we live today it is a necessity that we must strive to improve ourselves for the greater good of the world. We need development because we dread stagnation, thus continuing our pursuit for a better cause. People development is an infinite game with no ends. Each society needs to have great creative minds to serve its purpose.
It is unreasonable for a person to cease all learning activities and to only seek a life of entertainment. A wise man believes that he knows nothing and a foolish man believes the adequacy of his understanding. So it can be said that the first step to self-development is the willingness to learn. This is the fundamental base of our determination to continue forward. Thus, there may never be a time where humans are not exploring something new.
TEDxBinusUniversity will be a platform to share ideas from the professionals that support our infinite game against stagnation because when we share our ideas, we give parts of our understanding of the fundamentals of the world. In conclusion, people development is a crucial part of a society's growth and expansion, we have the technology to be better, there is no limit on what humans are capable of.
Speakers:
Founder of BEE YOUTH! Community
I love the world of insects, especially the butterfly. Insects that have an important role for the environment, even though they are small, but they are valuable for human life. Therefore, I really want to learn from the metamorphosis of insect life, biological life, and its contribution to the environment and humans. And the most important thing is We as Human Resources should maintain and preserve the natural resources that we have, especially Indonesia. Wealth, positions, will darken your Authority, but with a loving nature we can be grateful and sincere.
Classical Guitarist
Jubing Kristianto is four times national winner of "Yamaha Festival Gitar Indonesia" (1987, 1992, 1994, and 1995)and recipient of Distinguished Award at "Yamaha South-East Asia Guitar Festival" in 1984. He studied classical guitar from Suhartono Lukito and Arthur Sahelangi at Yamaha Music School in Semarang and Jakarta, Indonesia. His formal education is in criminology from Universitas Indonesia. After working as a journalist for 13 years, in 2003 Jubing decided to be a guitarist. He had been working together since then with prominent musicians in various genre. Jubing had released five solo guitar albums: Becak Fantasy (2007), Hujan Fantasy (2008), Delman Fantasy (2009),Kaki Langit (2009), and Pagi Putih (2015) produced by IMC Record. Rolling Stone Indonesia magazine had enlisted his Becak Fantasy as one of "The Best 20 Indonesian Albums of 2008". Jubing have wrote two books on guitar: Gitarpedia: Buku Pintar Gitaris (2007) and Membongkar Rahasia Chord Gitar (2008).
Co-Founder Verihubs
The co-founder of Verihubs: An artificial intelligence platform to verify your customer. The automatic Artificial Intelligence process elevates your fast-growing business by verifying customer identity and helps to prevent fraud.