PSYPRENEURSHIP 2019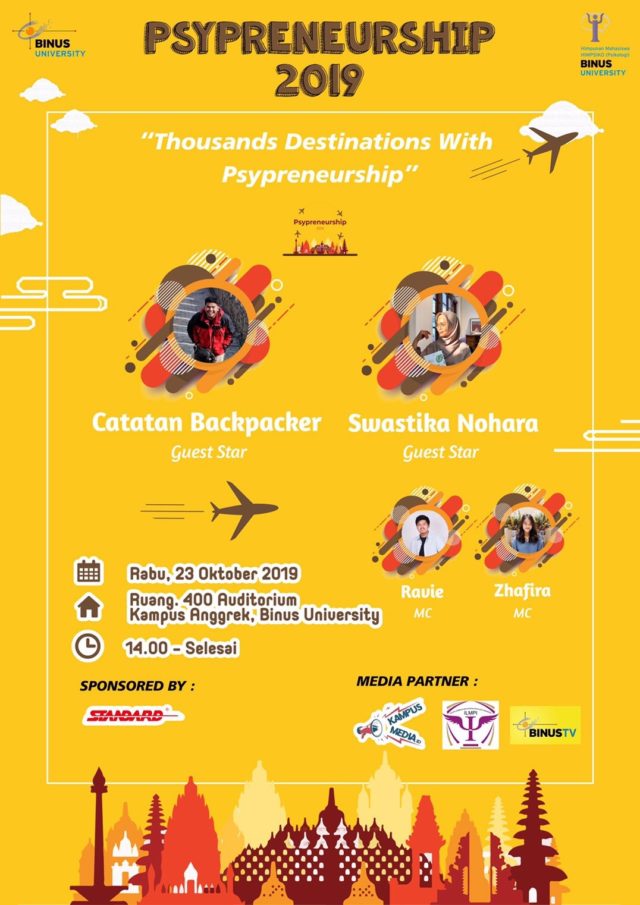 I AM READY FOR
PSYPRENEURSHIP 2019
"Thousand Destination With Psypreneurship"
Guest Star:
  Swastika Nohara (Script Writer & Travell Blogger)
  Ashari Yudha Pratama Putra (Founder Catatan Backpacker)
MC : 
 Ailsa Zhafira & Ravie Syarief Ileas
Mark your calendar, and see you guys there!
 Wednesday, October 23rd 2019
 14.00 – done
 at Room 400 Auditorium Campus Anggrek Binus University 
 You can also register yourself online through our google form right here! 
bit.ly/psypreneurship19
also visit and add our LINE@ for online registration, more and more information 
 @193wmyrb
So grab your ticket now!
 Ticket for only 30k (include E-certificate, SAT, Food&Beverage)
For more information, please kindly check our social media on Instagram (@psypreneurshipbinus) and our CP: 
🏻 Kelvin Octavianus Tang – 082165410903
Line ID: kelvinot
🏻 Zahwa Natalya – 087880232774
Line ID: zahwanatalyaa
SEE YOU AT THE EVENT!