HIMTRI BINUS – Seminar And Workshop Industrial Engineering Binus University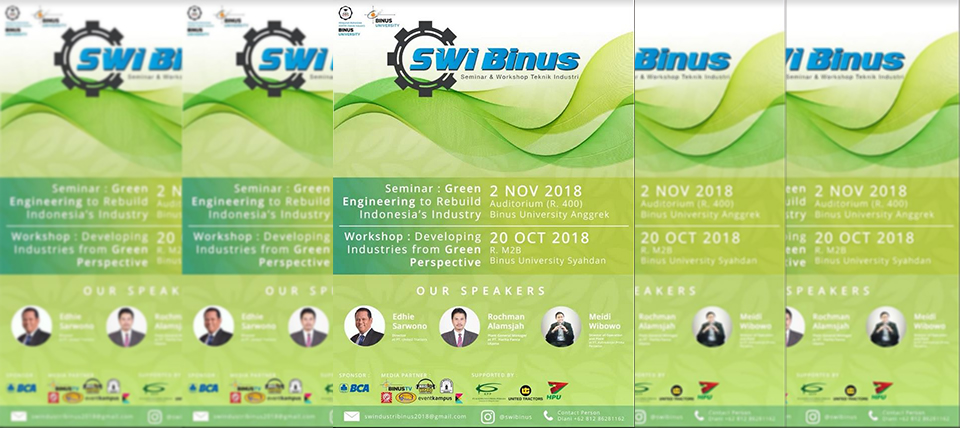 CALLING OUT FOR INDUSTRIAL ENGINEERING
Hallo Industrial People
HIMTRI BINUS Proudly Present
"Seminar And Workshop Industrial Engineering Binus University"
Acara ini akan mengangkat tema "Green Engineering to Rebuild Indonesia's Industries" untuk seminar dan "Developing Industries from Green Perspective" untuk Workshop
Menghadirkan Pembicara yang professional dalam bidangnya , menginspirasi dan tentunya akan memberikan banyak pengetahuan dan pengalaman di sektor Industri.
 Edhie Sarwono (Director at PT. United Tractors
 Rochman Alamsjah (Plan General Manager  at PT. Harita Panca Utama)
 Meidi Wibowo (Director of Operation and Plant at PT. Kalimantan Prima Persada)
Kapan sih Acaranya ?
🏼 Workshop :
Sabtu, 27 Oktober 2018
07.30 WIB s.d selesai
Ruang 311 Binus University Campus Anggrek
🏼Seminar :
Jumat, 2 November 2018
13.30 WIB s.d Selesai
Ruang 400 Auditorium Binus University Campus Anggrek
Benefits❗️:
E-Sertifikat
SAT Point (For Binusian)
Skills
Pengalaman
Snack
Souvenir Menarik
Doorprize
Workshop:
35k binusian – 40k non binusian
Seminar:
60k binusian –  65 non binusian
Paket:
90k binusian – 100 non binusian
Pembayaran via transfer ke rekening
‭‭5271665840‬‬ a/n Febbyyolla (BCA)
Konfirmasi transfer ke CP
Pendaftaran dapat dilakukan dengan menghubungi Contac Person yang tersedia!!
Jadi Tunggu apalagi?  Daftarkan diri kalian! Dapatkan Kesempatan dan Ilmu yang berlimpah seputar Teknik Industri.
More Information :
Diani
 ‭‭081286281162‬‬
 Line: dianitdrn
 Afifah
  ‭‭085692336190‬‬
  Line : afifahseptia
Tasya :
  ‭‭081212829929‬‬
  Line : tasyaptr
Instagram : @swibinus