HIMME – How to Convience People in Business When You are not Convienced Present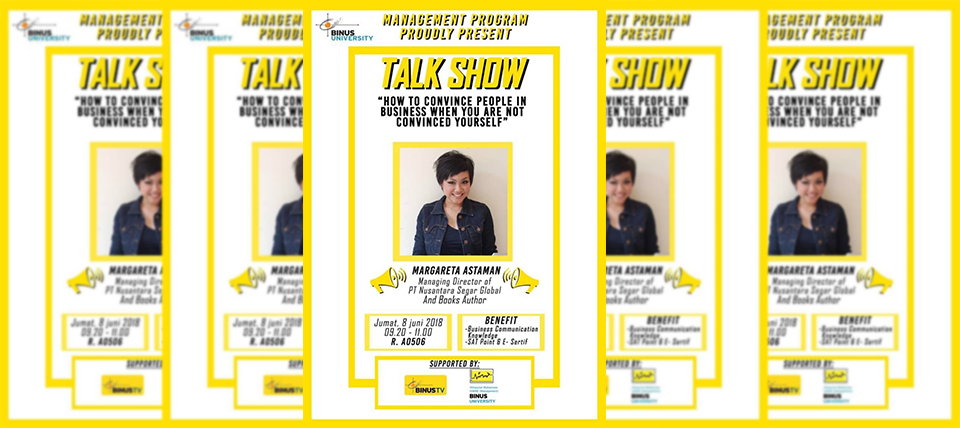 Management Program Of BINUS Business School Proudly Present Business Communication Talkshow
"How to Convince People in Business When You Are Not Convinced Yourself"
As we know that communication is one of the essential elements in a business, sometimes people tend to forget that communication, no matter how big or small can ensure the business success. In this talkshow we want people to understand how communication plays a vital role in the business world. Let's go seek some knowledge from Talkshow this June! 
Our speaker :
MARGARETA ASTAMAN
(Managing Director of PT. Nusantara Segar Global & Books Author)
Benefits:
E-Certificate
SAT Points 
Business Communication  
Knowledge
Mark your calendar & save the date!
⏰ 9.20 – 11.00 AM
R. A0506 BINUS University Alam Sutera
So what are you waiting for?
Come and join this event and you'll get knowledge!
For more information, please kindly ask our Contact Person :
• Citra Kresna Dewi
+62 856 9722 3938 
(line) citrakresna
• Agung Safarianto
081298010919
(line) agungsafarianto
Or Register yourself : 
HIMMERSS?? OKEE!!