Innovative Youth Project (IYP)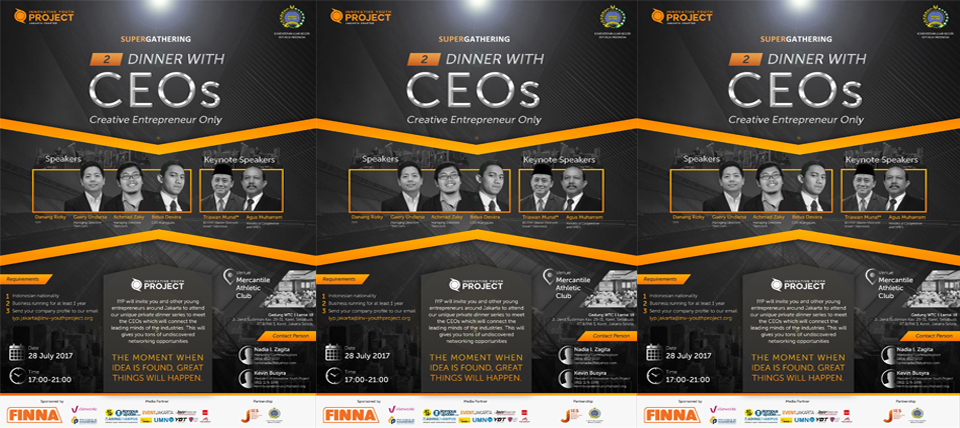 Hello entrepreneurs!
We are facing the globalized world, so do our economics and businesses. The rapid stream of change drives us to have the ability to adapt towards changes. That is one of the reasons why Indonesia is currently facing a lot of opportunities and challenges ahead, especially in economic growth.
In this regard, Innovative Youth Project (IYP) proudly presents you our main annual private gala dinner event called "SuperGathering – Dinner With CEOs 2".  It features extensive networking opportunities to grow your business. This annual event is part of our commitment to bring together and connects the leading minds of the industries.
We are calling all young entrepreneurs, start-up CEOs, and founders to interact in an informal way.
Registration Requirements:
Indonesian Nationality
Business running for at least 1 year
Send your company profile to iyp.jakarta@inv-youthproject.org with subject "DWC 2 – (company name)
Only available for 150 chosen guests. Invitation card will be sent via email.
Event will be held on,
Date: Friday, 28th July 2017
Time: 5pm – 9pm
Place: Mercantile Athletic Club, Floor 18, WTC 1. Jl. Jend Sudirman Kav. 29-31, Karet.
For more information, please contact:
Nadia: 0856-9112-3437
Line: @iyp.jakarta
Instagram: iyp.jakarta