DV RUN 2016 "Unleash The Hero In You!"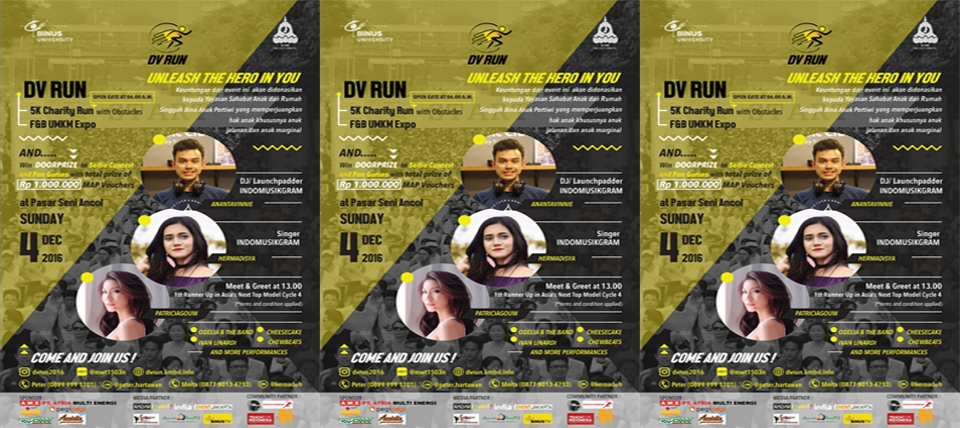 Hello runners!
KMB Dhammavaddhana BINUS University proudly presents
DV RUN 2016
"Unleash The Hero In You!"
Apa itu DV RUN?
DV RUN adalah 5k Charity Run dan UMKM Expo yang diadakan untuk mendukung Rumah Singgah Bina Anak Pertiwi yang memperjuangkan hak anak-anak marginal dan anak-anak jalanan.
Following are the details about the relevant event:
Day : Sunday
Date : 4th December 2016
Time : 06.00 A.M. (open gate)
Place : Pasar Seni, Taman Impian Jaya Ancol
JOIN THE FUN WITH US! We would love to have you as our guest!
"Every day is a chance to be a blessing in someone else's life."
REACH US THROUGH
WEBSITE || http://dvrun.kmbd.info
EMAIL || dvrun16@gmail.com
LINE || https://line.me/ti/p/%40mwt1503n
INSTAGRAM || @dvrun2016
#5kcharityrun #5krun #dvrun2016 #bazaarancol #bazaarjakarta #eventjakarta #eventjkt #unleashtheheroinyou #charityrun #eventjakarat2016