The 2016 ENGLISH COMMUNITY CONFERENCE – "English Community in Today's World"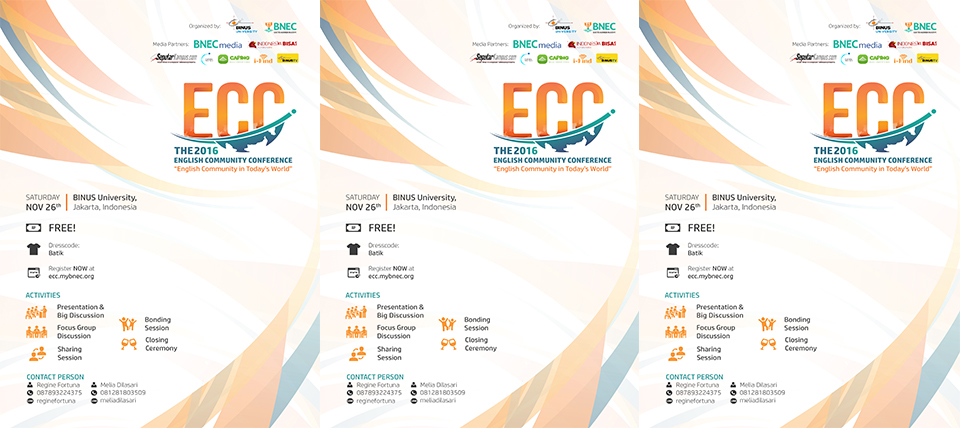 BINUS ENGLISH CLUB (BNEC) PROUDLY PRESENTS
 The 2016 ENGLISH COMMUNITY CONFERENCE – "English Community in Today's World"
 The 2016 ECC is the first national English community conference organized by BNEC, which will be held on November 26, 2016. The 2016 ECC will connect student-run English communities including (but not limited to): public speaking, debate, Scrabble, and English communities in general of high school and varsity levels in Indonesia through meetings, sharing, and discussions.
 What will you get by joining ECC?
· Certificate
· New experience and knowledge
· Network expansion
· And many more
 And guess what? You can get all of these for FREE! What are you waiting for? Register yourself NOW and find out more on our website:
http://ecc.mybnec.org/
 —
The registration will be closed on Saturday, November 19, 2016.
 —
Follow our social media for more updates about The 2016 ECC!
 —
Have any questions? Just contact us!
• Melia Dilasari (Phone: +6281281803509)
• Regine Fortuna (Phone: +6287893224375)
 —
See you in The 2016 ECC!