INTERACTIVE 2016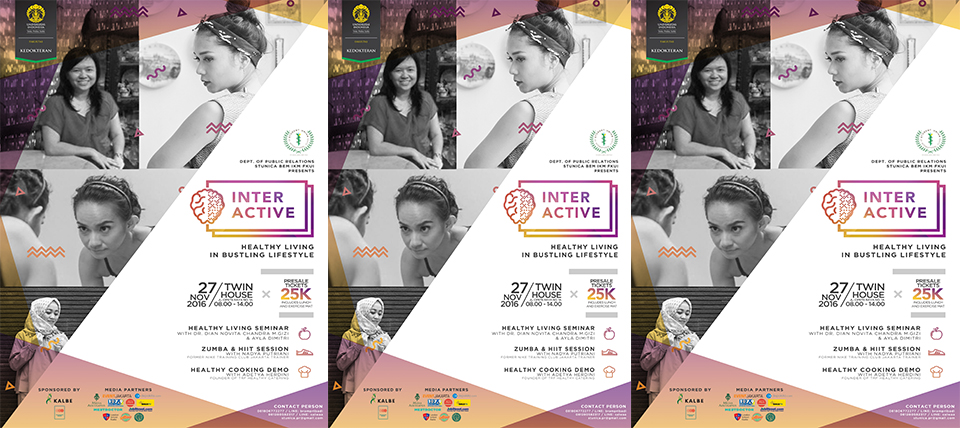 CALLING ALL HEALTH ENTHUSIASTS!
INTERACTIVE 2016 is an annual event held by Public Relations Dept. STUNICA BEM IKM FKUI, and this year, we adopt the theme of HEALTHY LIVING IN BUSTLING LIFESTYLE.
This year's event will provide you with various information on how to stay fit amidst a busy lifestyle, whether it be appropriate nutrition needs, exercise tips, and seminar regarding healthy living with clinical nutritionist from Fakultas Kedokteran Universitas Indonesia.
Our agenda and confirmed speakers include:
– HEALTHY LIVING SEMINAR
with Dr. Dian Novita Chandra, M.Gizi from Dept. of Nutrition RSCM-FKUI
and our special guest star, Ayla Dimitri
—
– ZUMBA & HIGH INTENSITY INTERVAL TRAINING (HIIT SESSION)
with Nadya Putriani, former Nike Training Club Jakarta trainer & renowned Zumba instructor
—
– HEALTHY COOKING DEMO
with Adetya Herdini, founder of TRF Healthy Catering
—
PRESALE TICKETS @ 25K
ON THE SPOT TICKETS @ 50K
Ticket includes: LUNCH by Twin House, Exercise Mat provided for exercise session
—
REGISTER YOURSELF IN THE LINK BELOW TO GET OUR SPECIAL PRE-SALE PRICE!
—> http://bit.ly/2eensWd <—
—
Contact Us:
http://instagram.com/interactive_2016 
Bram:   081806772277 / Line: brampribadi
Salwa:  081280582317 / Line: salwaa