The 10th Indonesia Marketing Competition – IMOTION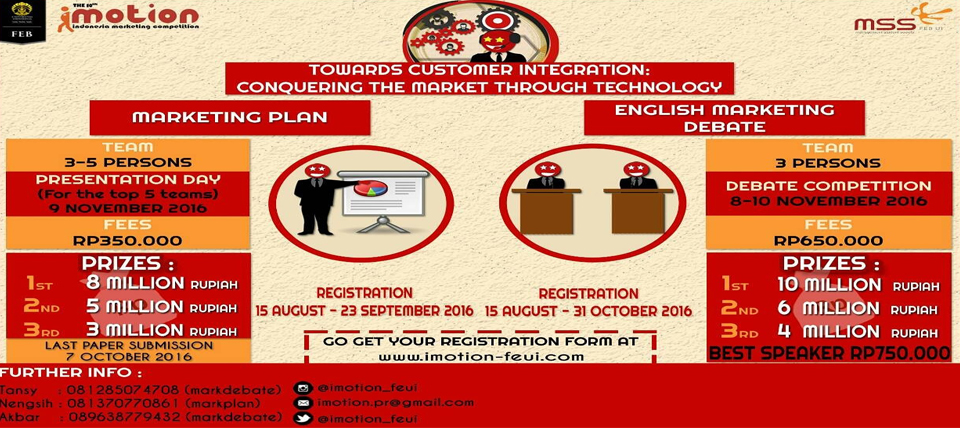 Tertarik dengan dunia marketing? Ingin mengembangkan soft-skill kamu sekaligus menambah pengalaman dan membangun network? Kamu jago debat tapi masih malu-malu untuk ikutan lomba?
Yuk langsung aja ikutan The 10th Indonesia Marketing Competition (IMOTION)!!
IMOTION merupakan lomba marketing yang diselenggarakan oleh Management Student Society FEB UI.
Tahun ini IMOTION memiliki tema "Towards Customer Integration: Conquering The Market Through Technology"
Acara ini diselenggarakan pada 7-11 November 2016 dan mempunyai 2 main event; Marketing Plan dan English Marketing Debate.
Pendaftaran Marketing Plan hingga 16 Oktober 2016 dengan Deadline Submission 23 Oktober 2016.
Sementara Pendaftaran English Marketing Debate hingga 31 Oktober 2016.
Untuk registrasi dapat melalui website kami www.imotion-feui.com.
Informasi lebih lanjut dapat menghubungi
Official Line Account: @imotion
Contact Person:
English Marketing Debate
– Tansy: 081285074708
– Akbar 089638779432
Marketing Plan
– Nengsih 081370770861
Tunggu apa lagi? Yuk langsung daftarkan tim kamu dan bergabung di The 10th IMOTION!