#STREAMFEST2015, A Live Experience by BINUS TV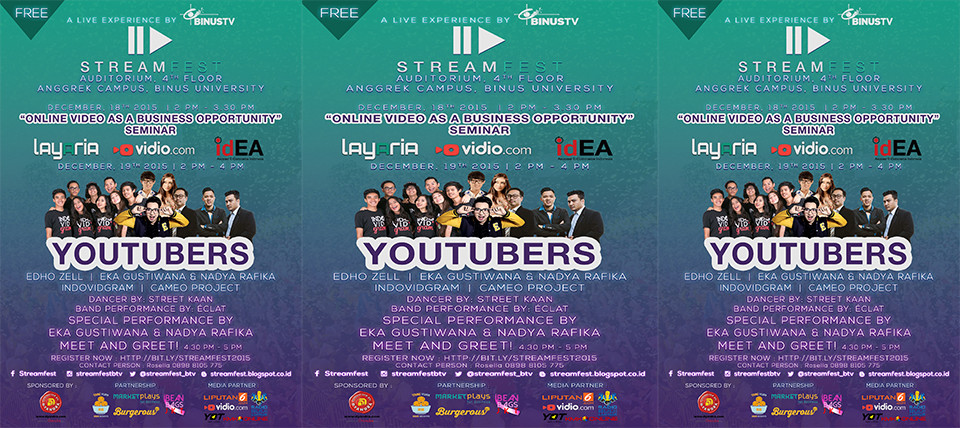 Prepare to have a live experience by BINUS TV, because #STREAMFEST2015 will be held on December 18th to 19th 2015 at the Auditorium of Anggrek Campus, BINUS University,
#STREAMFEST2015 will invite Dennis Adishwara as the CEO of Layaria.com, Prami Rachmiadi as Chief Marketing Officer of PT.Kreatif Media Karya and also idEA, as a representative for Dyandra Promosindo's upcoming IESE 2016. On December 18th from 2 – 4 pm, they will share their related experiences on creating and enhancing online contents as business opportunities.
On December 19th 2015 from 2 – 4 pm, several online video personalities will gather and share their video making experiences to a live audience. Edho Zell, Eka Gustiwana & Nadya Rafika, alongside with Indovidgram and Cameo Project, will interactively join a talk show to discuss about their own experiences. Not only that, at 4.30 – 5 pm they will give the chance for some of #STREAMFEST audience to attend a meet and greet session after the talk show.
Dyandra Promosindo, as the main sponsor of this event, will promote their upcoming event #MegaBazaar2016 and #IESE2016, in conjunction with #STREAMFEST2015. As one of the most prominent event organizers in Indonesia, Dyandra Promosindo wants to share the good news about the latest promotions on the related events.
#STREAMFEST2015 is also partnered with Tang Yuan Asian Desserts, Burgerous. Marketplays and Bean Bags Jakarta. The audience will get spectacular chances to win hundreds of dining and shopping vouchers from the partners of #STREAMFEST2015.
The official media partners for #STREAMFEST2015 are Radio Budi Luhur, vidio.com, KMK Online, Liputan6.com and Young On Top.
Register for free at http://bit.ly/streamfest2015 now!
'Til then, let's keep in touch through several platforms of our social media here:
#Streamfest2015 Instagram Page