FOOSHION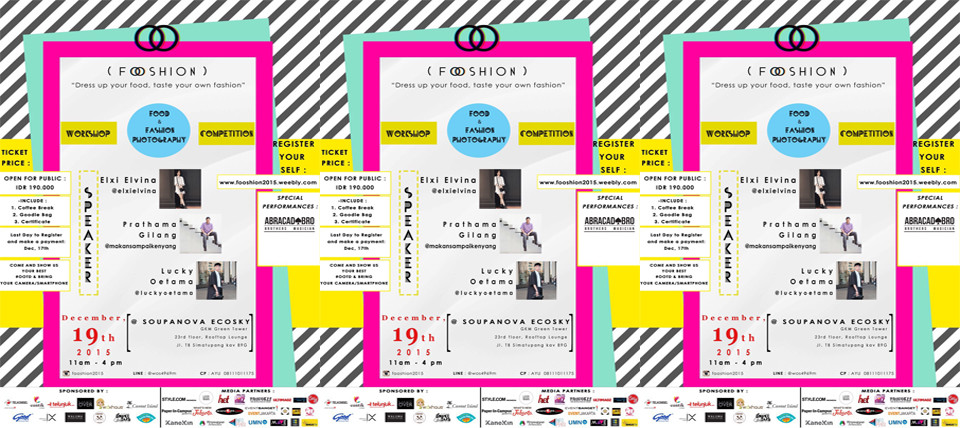 Food, fashion, and photography are great combination that we could find easily, nowadays. Are you one of the food maniac or fashion enthusiast? We have a good news for you, guys!
There's an interesting event named FOOSHION on Saturday, December 19th 2015. FOOSHION will be held at at Soupanova Ecosky, GKM Green Tower 23rd floor Roof Top Lounge, Jl. TB Simatupang Kav. 89G, South Jakarta.
It provides you a workshop and competition about food, fashion, and photography. The tagline is "LIFESTYLE: Dress Up Your Food, Taste Your Own Fashion". Lucky Oetama, Elxi Elvina, and Prathama Gilang will make you understand how to get Instagram-able pictures.
Don't forget to pepare your best #OOTD and bring the camera (either pocket camera, DSLR, even smartphone). Because, there will be a photo competition!!! It's related to the matterials that explained by the speakers.
ONLY PAY IDR 190.000, YOU COULD REGIST YOURSELF NOW at www.fooshion2015.weebly.com to join FOOSHION AND GET MUCH MORE SPECIAL THINGS (Goodie Bag, Certificate, and Coffee Break)!
Visit our Instagram: @fooshion2015, add and ask anything through our LINE@ (@wos4969m), or check our website at www.fooshion2015.weebly.com to get further information.