WTF (We The Future) Market!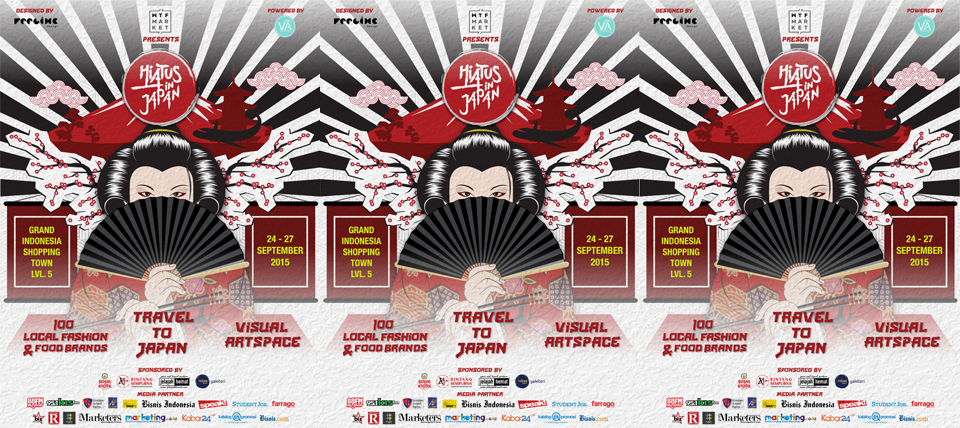 WTF (We The Future) Market is a platform for local entrepreneurs & artists to make a statement on their innovation & creativity. The 5th event of WTF Market is going to be held again for another time which will be held in Grand Indonesia, West Mall- Exhibition Hall from September 24 – 27, 2015. Established since June 2014, WTF Market will perform at its best to deliver the best local products to customers as well as to give a fun & visual experience to every people who attended the market.
The 4-days event are going to invite 100 Local Fashion, Food, & Lifestyle Brands combined with gigantic Visual Artspace & Pop-up Decorations that will go along with the theme itself, Japan. The team will deliver a combination of Modern & Traditional Japanese Ambiance by taking a figure of Geisha & Yakuza as the main character. Elle Yamada (Fashion Blogger), Hans Danial (Food Blogger), Alexander Thian (Travel Blogger) are some guest stars that will support the event which will be talking about their experience in Japan.
The unique part of the event is it will offer a very interesting travelling packages to Japan in collaboration with one of the backpacker company in Jakarta. Small amount of Down Payment, 0% Installments without Credit Card up to 22x (times) , and Free 2 tickets to Thailand are only some of the offers we may attain when purchasing the travel packages. FREE SUSHI & BENTO will be given away to customers who attend WTF Market in specified time, so prepare your tummy!
Why wait then? Let's get ourselves ready for the long weekend from September 24 – 27, 2015 to have a fun & exciting weekend only in Grand Indonesia, West Mall – Exhibition Hall.