President Model United Nations 2015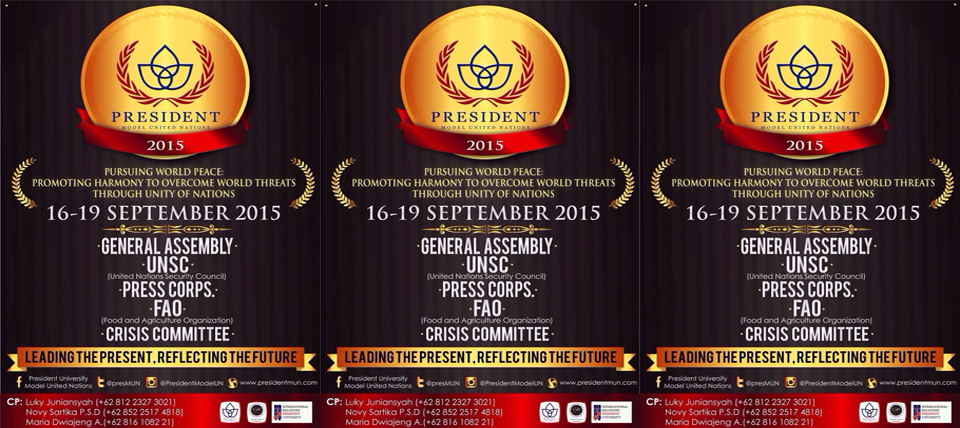 President Model United Nations or PresMUN is one of the most prestigious MUNs in Indonesia.  It is a collaboration between President University Model United Nations (PUMUN) and President Major Association of International Relations (PUMA IR).  PresMUN is inviting national as well international delegates, particularly ASEAN countries.
PresMUN was established in 2012 with state of the art innovation every year.  Our international delegates ranges from as far as the Philippines, Malaysia, Australia, Singapore, Cambodia, and Vietnam.  Last year, PresMUN launched a new council, the Crisis Committee. PresMUN is the pioneer for Crisis Committee in Indonesia, being the first MUN who incorporates Crisis Committee in its MUN.
This year's PresMUN is going to bigger and better. It will be held on September 16th-19th, 2015 at Grande Valore, Cikarang, Indonesia. PresMUN's theme this year is "Pursuing World Peace, Promoting, Harmony by Overcoming Today's World Challenge" with five councils:
General Assembly
–          Modern Slavery
–          Marginalization in Urban Society and Minority Rights
United Nations Security Council (UNSC)
–          Human Intervention in Syria
–          Global Maritime Security in Combating Piracy
Food Agriculture Organization
–          Discovering Alternative Primary Food
–          Food Security
Crisis Committee
–          Bermuda Triangle
Press Corps.
Press Corps is the new novelty of PresMUN this year.  Press Corps is a newfangled council that will bring a fresh breeze to the flow of your PresMUN experience. This council will be perfect for delegates who are interested in journalism, editorial, and article-making. They will represent international media such as but not limited to: BBC, CNN, Al-Jazeera, and Sky News.
There will be three waves of registration in PresMUN 2015: Exclusive Registration, Early Bird, and Regular Registration. The on-going registration is Early Bird, which will be closed until June 30th, 2015, as well as Regular Registration that will be started on July 1st, 2015. The fee is IDR 1.500.000. There will be so many privileges once you have registered with PresMUN 2015, such as:
     – Stays at five stars hotel, Grande Valore, Cikarang, Indonesia
     – Committee Sessions
     – Meals for 4 Days 3 Nights
     – Social Night
     – Accommodation (exclude airfare)
And Many More!
Secure your seat now by registering yourself in www.presidentmun.com and follow our twitter @PresMUN and like our Facebook Fan Page President Model United Nations. For any inquiries, do not hesitate to contact Maria Dwiajeng Anggita (+62816 108 221) or pr@presidentmun.com.
-LEADING THE PRESENT, REFLECTING THE FUTURE-