INDONESIA INTERNATIONAL GEOTHERMAL CONVENTION & EXHIBITION (IIGCE) 2015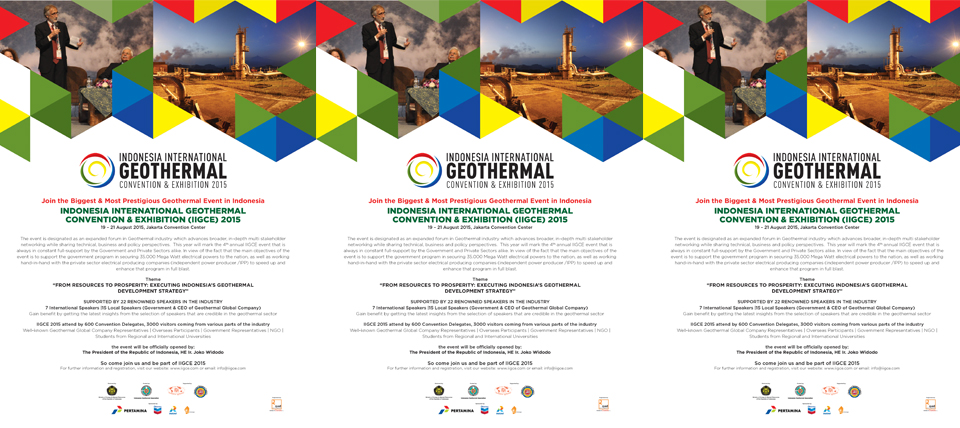 Join the Biggest & Most Pretigious Geothermal Event in Indonesia
INDONESIA INTERNATIONAL GEOTHERMAL CONVENTION & EXHIBITION (IIGCE) 2015
19 – 21 August 2015, Jakarta Convention Center
Given the noteworthy relevance of the 15th Annual Scientific Meeting of Indonesian Geothermal Association (INAGA), we feel honored to host The 2015 Indonesia International Geothermal Convention & Exhibition (IIGCE).
The most prestigious geothermal industry event in the region, where government agencies, policy makers, investors, developers, services companies, academicians and practitioners in the industry gather, network and exchange ideas.
Theme:
"FROM RESOURCES TO PROSPERITY: EXECUTING INDONESIA'S GEOTHERMAL DEVELOPMENT STRATEGY"
The event is designated as an expanded forum in geothermal industry, which advances broader, in-depth multi stakeholder networking while sharing technical, business and policy perspectives. This year will mark the 4th annual IIGCE event that is always in constant full-support by the Government and Private Sectors alike. In view of the fact that the main objectives of the event is to support the government program in securing 35.000 Mega Watt electrical powers to the nation, as well as working hand-in-hand with the private sector electrical producing companies (independent power producer / IPP) to speed up and enhance that program in full blast.
PROGRAM
CONVENTION | EXHIBITION
WORKSHOP | FIELD TRIP
PHOTO COMPETITION | WRITING COMPETITION
SUPPORTED BY 22 RENOWNED SPEAKERS IN THE INDUSTRY
7 International Speakers | 15 Local Speakers (Government & CEO Geothermal Global Company)
IIGCE 2015 attend by 600 Convention Delegates, 3000 visitors coming from various parts of the industry
Well-known Geothermal Global Company Representatives | Overseas Participants | Government Representatives | NGO | Students from Regional and International Universities
The event will be officially opened by
The President of the Republic of Indonesia, HE Ir. Joko Widodo
So come join us and be part of IIGCE 2015
For further information and registration, visit our website: www.iigce.com or email: info@iigce.com