The 6th Annual of Indonesia Model United Nations 2015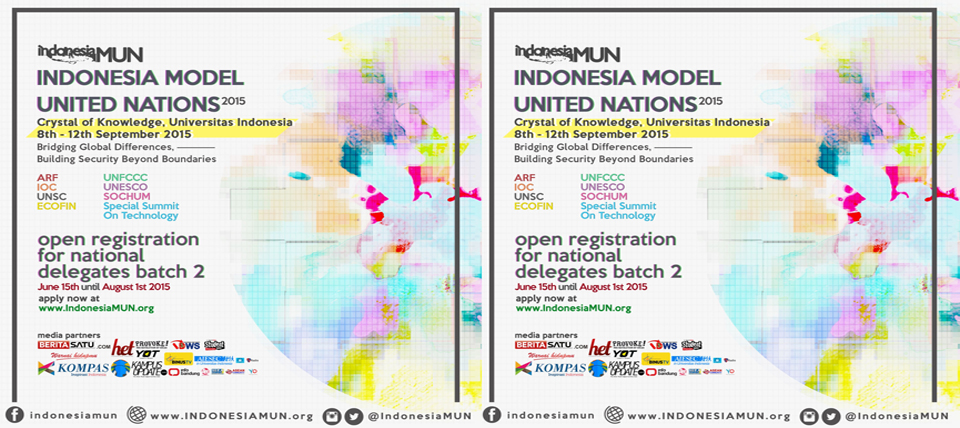 July 2015
Media Contact: Hanim Anggrianingtyas, Indonesia MUN 2015 Head of Media Relations
The 6th Annual of Indonesia Model United Nations 2015
This year's come-back will welcome both varsity and junior varsity students from worldwide
Jakarta, Indonesia. All Model United Nations (MUN) enthusiasts, both varsity and junior-varsity students from around the globe, are now being called on to join the 6th annual of Indonesia Model United Nations on the September 8th – 12thin Crystal of Knowledge, Universitas Indonesia. . Known as IndonesiaMUN, the MUN Conference was first initiated by the Faculty of Social and Political Sciences, Universitas Indonesia back in 2010, which also marked the premier of varsity level Model United Nations Conference in Indonesia. As the pioneer, IMUN has been here to provide a room for students to practice diplomacy, negotiation, and legal drafting skills, so that they can bring about the betterment for their community by learning beyond the classroom walls.
Following its success, the 6th Indonesia Model United Nations will bring eight thought-provoking committees to be simulated this year; 1) UN Security Council, 2) ASEAN Regional Forum, 3) UNESCO, 4) SOCHUM, 5) International Olympics Committee, 6) Special Summit on Technology, 7) ECOFIN, and 8) UNFCCC. Each committee has a topic that will go in accordance with this year's conference theme, "Bridging Global Differences, Building Security beyond Boundaries".  Complementing the conference sessions, there will also be various social itineraries, immersing delegates into an excursion to the largest peacekeeping tranining center in South East Asia known as the Indonesia Peace and Security Center (IPSC), a round-table Diplomatic Dinner with ambassadors and diplomats, and a lavish closing ceremony.
Annually takes place in Universitas Indonesia, Depok, the conference venue is located within 30 minutes drive away from Jakarta, Indonesia's capital city. Public transportations such as train and taxi, are also accessible from Universitas Indonesia to facilitate delegates' mobility. The venue itself is equipped with research rooms, a bookstore, cafes, and restaurants that—ready to welcome national and international delegates.
"To date, aside from the national delegates, we have received applications from delegates in Australia, Russia, Myanmar, Malaysia, India, Ghana and Philippines. We look forward to welcoming other international delegates from other countries," says Haryani Dannisa, IndonesiaMUN 2015 Secretary General. With that being said, IMUN 2015 will, no doubt, serve such diverse opinions and discussions within over 300 youths gathered, yet they may be like-minded while collaboratively engaging the issues in order to foster a greater understanding.
To this end, the 2nd batch of registration is still opened up to August 1st 2015. Visit www.indonesiamun.org for any further details.