BINUS International Games Championship (BINGO) 2015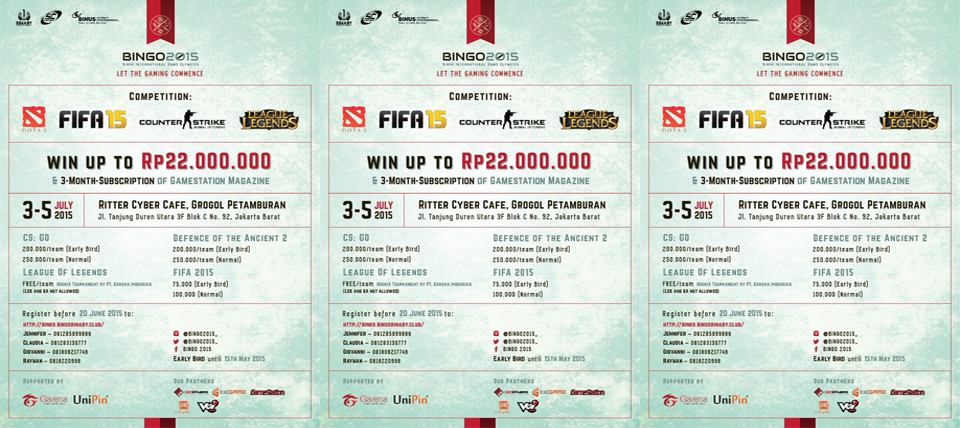 BINGO (Binus International Games Olympics) 2015 is an annual event, games competition that is held by a computer club called "BINARY', formed by Binus International University. It is held in Ritter Cyber Cafe, which is located in Jl. Tanjung Duren Utara 3F Blok C No. 92, Grogol Pertamburan, Jakarta Barat on 3-5 July 2015. Hitherto, BINGO has successfully launched on 2012, 2013, 2014. This year's event will be the fourth of BINGO event, comprises 4 Competition Divisions – FIFA 2015, COUNTER STIKE: GLOBAL OFFENSIVE, LEAGUE OF LEGEND and DEFENCE OF THE ANCIENT (DOTA 2) and 11 Organizational Support Division with total 42 committees will be contributed to assist the operation of this event. In this year's competition, popular mini games will also present on this event, for example 2 fingers 1 brain, duet or MMM fingers. BINGO this year was opened for public, especially gaming communities.
With theme "Let The Gaming Commence" for this year's event, BINGO 2015 has implementation to gain more support and awareness from the gaming communities in Jakarta. BINGO has become one of the prestigious games competitions in Jakarta. Hence, in 2015, BINGO is bringing more excitement and improvements for the participants that have been waiting. BINGO is inviting more challengers and gamers to participate in this year's competition.
This is the list of the winner for BINGO 2015:
Damar
Dimas
Haggy
RRQ
X-TREME CYBER GAMING
LINe
Victorious secret
Korean
The underdogs
NorN
We made legend
NLOJ