WE THE FEST 2015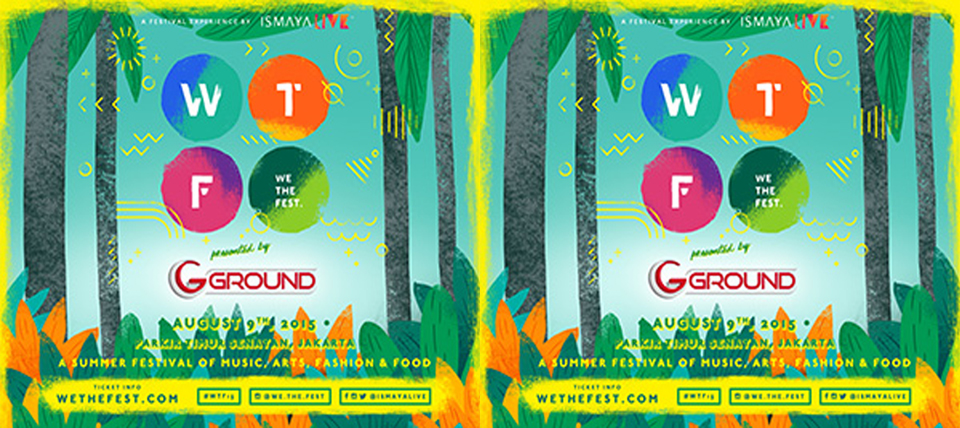 PRESS RELEASE
WE THE FEST!
SUNDAY, AUGUST 9TH 2015
AT PARKIR TIMUR SENAYAN – JAKARTA
After the massive success of We The Fest 2014; named Best New Ground-Breaking Music Festival by Area Magazine, The Most Talked About Festival in 2014 by RollingStone Magazine and The Festival that was On Fire by Free! Magazine, it's time for ISMAYA LIVE to bring back WE THE FEST.
"Unlike our perceptions on other live concerts or festivals, WE THE FEST has its own set of throne. It had the perfect ambiance of an indie fest with a balance of mainstream music you listen on the radio during traffic hours. We fell in love instantly seeing how all the artists from different genres somehow are fused into one wholesome." – SvanaPaper, on #WTF14
This year, WE THE FEST is coming back with a bang, harder than our first ever. Still combining the love of Music, Fashion, Arts and Food –and also, having fun under the sun, #WTF15 will once again take place at PARKIR TIMUR SENAYAN, JAKARTA. This time, it will be on the second week of August, SUNDAY, AUGUST 9TH 2015 AT 12PM.
Aiming on making it as an annual summertime madness in the country, we have announced the full line-up; 360, CYRIL HAHN, DARIUS, ECHOSMITH, FLIGHT FACILITIES, JESSIE WARE, KIMBRA, MADEON, PANAMA, PASSION PIT, RUFUS and SHEPPARD.  Special Guests: GEORGE CALOMBARIS from MasterChef Australia and Canada's Stunt Magician/Comedian WES BARKER. Not to forget, our local acts: BLOTYMAMA, BUBUGIRI, DANILLA, ELEPHANT KIND, L'ALPHALPHA, MARCOMARCHE, NEONOMORA, SCALLER and TEZA SUMENDRA.
#WTF15 is an ALL-AGES all day event.
#WTF15 TICKET PRICES:
PRE-SALE 1:                                                                                        IDR 475.000*
PRE-SALE 2:                                                                                        IDR 550.000*
PRE-SALE 3:                                                                                        IDR 625.000*
EARLY ENTRY (Ticket holder MUST enter before 3PM):   IDR 500.000*
NORMAL PRICE:                                                                                               IDR 700.000*
V.I.B. (VERY IMPORTANT BANANA):                                       IDR 1.000.000*
*EXCLUDE 10% TAX
Get WE THE FEST 2015 tickets ONLINE at www.wethefest.com OR at our OFFLINE ticket boxes: All Pizza E Birra Outlets – Jakarta and Bandung (Central Park, Gandaria City, Plaza Indonesia, Setiabudi One, and Paris Van Java), and Kitchenette Beachwalk Bali.
FOR MORE INFO
Follow @IsmayaLive on Twitter and Instagram
Follow @we.the.fest on Instagram
Like ISMAYA LIVE and WE THE FEST on Facebook
Visit www.wethefest.com
MEDIA REGISTRATION
kevin.wiyarnanda@ismayagroup.com
360
Matthew James Colwell, better known by his stage name 360, is an Australian hip hop recording artist. He has released three studio albums: What You See Is What You Get (2008); Falling & Flying (2011), which peaked at No. 4 on the ARIA Albums Chart and was certified platinum; and Utopia (2014). 360's second album provided four charting singles, including "Boys like You" (featuring Gossling), which peaked at No. 3 on the ARIA Singles Chart and was certified 4× platinum. At the ARIA Music Awards of 2012, he received six nominations and won the 'Breakthrough Artist – Release' award for Falling & Flying, while Styalz Fuego won the ARIA 'Producer Of The Year' Artisan award for the same album.
CYRIL HAHN
Swiss native Cyril Hahn rose to fame with his stripped down remixes of twoiconic R&B songs, Mariah Carey's "Touch My Body" and Destiny's Child's 'Say My Name'. Cyril's remixes were instant internet smashes. Both remixes feature Hahn's signature style of pitching down the vocals, he takes inspiration from the chopped & screwed hip-hop scene, approaching it with his own distinctive style to create something fresh and original.
DARIUS
Darius (a.k.a. Terence N'guyen) is a French producer from Paris. His preferred genres usually range between house and disco, though many have pinpointed his sound in the "French touch" category. His work has been likened to Cassius, Fred Falke, and Daft Punk. To date, he has released two EPs via his label, Roche Musique – the critically-praised 'Velour', released in 2012, and his 2014 follow-up, 'Romance'.
ECHOSMITH
Echosmith is an American rock and pop band formed in February 2009 in Toluca Lake, Los Angeles. The band is composed of four siblings: Graham, Sydney, Noah, and Jamie Sierota. Echosmith signed to Warner Bros. Records in May 2012. They are best known for their hit song "Cool Kids", which reached number 13 on the Billboard Hot 100 and was certified double platinum by the RIAA with over 1,200,000 sales in the United States and double platinum also by ARIA in Australia. The band's debut album, Talking Dreams, was released on October 8, 2013.
FLIGHT FACILITIES
Flight Facilities is a production duo from Sydney made up of Hugo Gruzman and James Lyell, they began mixing in 2009 but really took off with their first original song 'Crave You'. It was a huge hit in Australia, so much so that they took their act to Tokyo and beyond. Their first studio album on Future Classic, 'Down to Earth' was released in October 2014. It peaked at the number three spot in the Australian charts, becoming an instant hit, it included the beautiful single 'Clair de Lune'. Their live show is really something special to behold.
JESSIE WARE
Jessie Ware is a singer-songwriter hailing from the UK, blending contemporary electronica with unique vocals. In 2012 Jessie released her debut album 'Devotion', which was a critical success. Her emotive, soulful vocals have achieved significant praise, coupled with stylish production from producers including Julio Bashmore make Jessie Ware one of the stand out artists from the London scene in recent years.
KIMBRA
Kimbra Lee Johnson, known mononymously as Kimbra, is a New Zealand recording artist based in Los Angeles. Kimbra's unique musical style draws from many different genres, often blending more modern electropop and R&B with classic jazz and soul musical elements. Her musical influences range from Prince and soul singer Minnie Riperton, to Björk and Jeff Buckley. Her unique style was showcased on her debut album, Vows, which was released in Australia in 2011. Singles from the album include "Settle Down", "Cameo Lover" (which won an Australian Recording Industry Association Award), "Good Intent" and "Two Way Street".
MADEON
House, electro, pop and a big room sound from this songwriter, producer, musician and DJ. In July 2007 Madeon became an international celebrity when he created a very interesting and dynamic mix of 39 songs titled 'Pop Culture' using a Novation Launchpad. 26 million YouTube views later, in 2015 he has expanded his vision with his debut artist album 'Adventure'. Expect a late night, high-octane live performance from the French superstar.
PANAMA
Marrying the timeless power of a good song with an eye to the future, Panama are winning hearts with their trademark "electronic power ballads". Signing to Future Classic, the release of the Always EP saw Panama top the Hype Machine charts with the title track with more than 3 million Soundcloud plays.  Panama's live show debuted at Field Day festival in Sydney in 2014, followed by a sold out a string of shows around Australia and showcases at SXSW 2014 Austin and then a tour of the USA and Europe including festival performances at Redding and Leeds festivals in the UK, Sonarama in Spain, Lowlands in The Netherlands and Paredes De Coura Festival in Portugal.
PASSION PIT
Passion Pit arose out of a Valentine's Day gift, a collection of songs written by Michael Angelakos to his then-girlfriend. The songs impressed his friends and so he was encouraged to pursue this passion. Following their first EP release, Columbia took notice, and 'Manners', hit the shelves in May 2009. The album went on to be hugely successful, with Passion Pit becoming one of the top indie acts of the year. 'Kindred', the band's third album was recently released to critical acclaim, solidifying their status as one of the hottest indie pop acts worldwide.
RUFUS
RÜFÜS are a Sydney based trio carving out a place for themselves on dance floors and stages the world over. Using layered synths, drums and warm vocals, Jon, James and Tyrone have built a soundscape and aesthetic that is entirely familiar, yet distinctly their own.
After releasing two EP's on their own label and a string of remixes, the band locked themselves away into a disused water tank-turned recording studio; Emerging eight months later with their debut record ATLAS in August 2013. Debuting at #1 on the ARIA album charts, ATLAS was nominated for 6 ARIA awards and went on to win 'Best Electronic Album', at the Australian Independent Records Awards, along with a string of other accolades as it took the band to the world stage.
SHEPPARD
Sheppard is an Australian indie pop band formed in Brisbane in 2009. Their debut studio album, Bombs Away, was released on 11 July 2014, and peaked at No. 2 on the ARIA Albums Chart and was certified gold by the Australian Recording Industry Association, while their second single, "Geronimo", spent three weeks at No. 1 on the ARIA Singles Chart and was certified 5× platinum.
At the ARIA Music Awards of 2013, Sheppard were nominated for Best Independent Release for "Let Me Down Easy". At the 2014 ceremony, they were nominated for Album of the Year, Best Group, Best Independent Release, Best Pop Release, Song of the Year, Producer of the Year, and Best Video.
GEORGE CALOMBARIS
George Dimitrios Calombaris (born 4 October 1978) is an Australian chef and restaurateur, and a judge of the Network Ten series MasterChef Australia.Prior to his role on MasterChef, Calombaris regularly appeared on the daytime Ten cooking show Ready Steady Cook. He owns seven restaurants in Melbourne His flagship Melbourne restaurant, The Press Club, was awarded The Age Good Food Guide "Best New Restaurant 2008" with Calombaris named 'Chef of the Year 2008'. Calombaris draws on his Greek and Cypriot heritage for inspiration.
WES BARKER
Wes Barker is a Stunt Magician. His show features amazing magic tricks, crazy stunts, crowd interaction, and comedy from start to finish. Barker performs his show across the country selling out theatres, filling college auditoriums, and entertaining corporate events. Wes has also performed at The Plaza in Las Vegas, and made appearances on The Comedy Network, Canada's Got Talent, and YTV.
ELEPHANT KIND
Elephant Kind is a Pop Rock band founded in 2013 by singer-songwriter Bam Mastro during his studies at Western Australian Academy of Performing Arts. Bam first gained prominence as a producer for a solo artist Neonomora, which led him to meet Bayu Adisapoetra, John Patton and Dewa Pratama who joined the band in early 2014. Bam is also the big enchilada to an Australian band called SaySky, who was first known as The Kings and Sons and won third place at the 2011 Gozzy Rock Music.
Elephant Kind has previously released two singles Be Somebody and We All Lose (Holy Sh*t). The singles are now available to purchase on iTunes and some other digital platforms.
L'ALPHALPHA
L'alphalpha is a Dream Pop/Indie Rock band from Jakarta, Indonesia. The band consists singer-guitarist Herald Reynaldo, bass-guitarist Yudhistira Mahendra, synthesizer player Citra Winitya, drummer Ildo Reynardian, pianist Byatriasa Ega, and violist Purusha Irma. L'alphalpha musical influences are varied. Their musical style is link to various genres such as indie pop/rock, post-rock and shoegazing.
NEONOMORA
Neonomora is an Indonesian singer, songwriter, artist and writer. Born in Jakarta, Indonesia and raised in different countries including United States, China and Australia. With the help of her brother Bam Mastro as the music producer and Adhe Arrio as the music engineer, Neonomora released her debut EP on November 25th 2013 and her debut Album named SEEDS on October 24th 2014. Her debut single You Want My Love peaked at number one on Mustang Top 20 by Jakarta-based radio station Mustang 88 FM, a month after the release. Neonomora's sound has been described as a combination of various genres, including folk, rock, soul, RnB and electronic; instruments found in her songs include violins, harp, acoustic guitar, banjo, koto (Japanese string instrument), mandolin, glockenspiel, tabla and synthesizers.