4th StudentsxCEOs Summit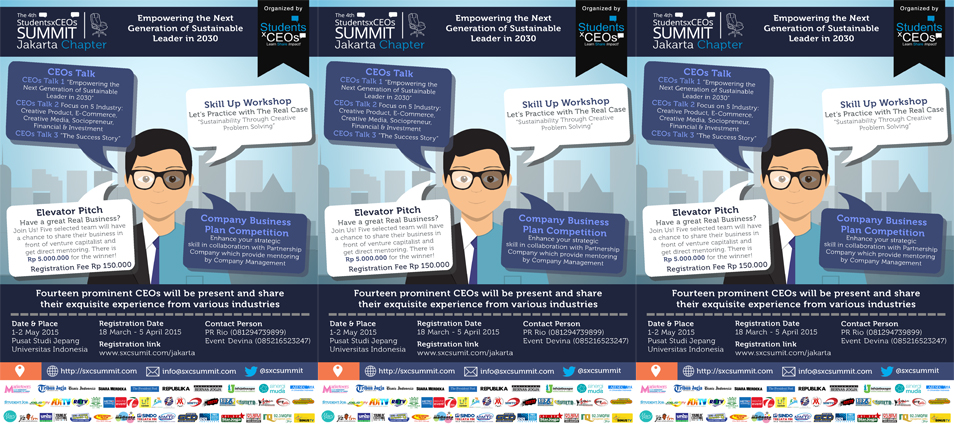 StudentsxCEOs Summit is a student-run business event aim to foster knowledge, insight, and experience sharing between prominent business players in Indonesia and selected students across the nation. Organized by StudentsxCEOs, this annual event also takes place as a platform for students to build networks and earn valuable skills through knowledge exchange, capacity building and networking opportunity.
Determined to further broaden our impact, for the first time StudentsxCEOs Summit will be held in 4 top-tier cities in Indonesia; Semarang (28/3), Yogyakarta (29/3), Bandung (18/4) and Jakarta (1/5). This 4thStudentsxCEOs Summit will raise "Empowering the Next Generation of Sustainable Leader in 2030" as the major theme. The theme is elevated for we aspire to empower future leaders with three key principles of sustainable leadership, known as 3Ps (Planet, People, and Profit), which support Indonesia's economy situation in the face of both global and national demographics' issue approaching in 2030. This theme is still directly linked with the theme brought on our 3rdStudentsxCEOs Summit when we dived intothe discussion of Indonesia's business opportunity in 2030.
Moreover we will provide various exciting programs to strengthen our main theme, arranged in CEO Talks, Networking Session, Discussion Panel and Keynote Speech. Particularly in Jakarta's Summit, there will also be aSkill-Up Workshop emphasizing on "How to Solve Leader's Problem: Sustainability", Elevator Pitch, and Company Business Plan Competition. For further information you can contact us at twitter (@SxCSummit),website (www.sxcsummit.com) , and our Contact Person (Rio : 085779328812).
StudentsxCEOs Summit adalah acara berbasis bisnis yang dijalankan oleh para mahasiswa dan bertujuan untuk mendorong pertukaran pengetahuan, wawasan, serta pengalaman antara pemain bisnis papan atas di Indonesia dengan mahasiswa terpilih dari seluruh Indonesia. Acarata hunan yang diselenggarakan oleh organisasi StudentsxCEOs ini juga berlaku sebagai sarana bagi para mahasiswa untuk membangun relasi dan mendapatkan berbagai kemampuan melalui pertukaran pengetahuan, pembangunan kemampuan diri, dan kesempatan untuk saling mengenal satu sama lain.
Terdorong untuk memperluas pengaruh positif yang diberikan untuk Indonesia, untuk pertamakalinya StudentsxCEOs Summit akan dilaksanakan di empat kota besar di Indonesia; yaitu di Semarang (28/3), Yogyakarta (29/3), Bandung (18/4), dan Jakarta (1/5). Tema yang diangkatpada4thStudentsxCEOs Summit ini adalah "Empowering the Next Generation of Sustainable Leader in 2030". Tema ini dipilih dikarenakan StudentsxCEOs berniat untuk mempersiapkan pemimpin-pemimpin masa depan dengan tiga prinsip utama dari sustainable leadership atau kepemimpinan berkelanjutan, yaitu 3P atau planet, people, dan profit. Ketiga aspek ini akan mendukung ekonomi Indonesia di hadapan isu-isu demografis nasional dan global yang diperkirakan akan menghampiri pada 2030. Tema ini masih berhubungan dengan tema besar yang diangkat pada StudentsxCEOs Summit yang ketiga, dimana bahasan berfokus pada kesempatan bisnis Indonesia pada tahun 2030.
Untuk mendukung tema besar ini, StudentsxCEOs Summit telah mempersiapkan berbagai program menarik seperti CEO Talks, Networking Session, Discussion Panel, dan Keynote Speech. Sebagai tambahan pada StudentsxCEOs Summit di Jakarta, juga akan diadakan Skill Up Workshop, Elevator Pitch, dan Company Business Plan Competition.Untuk informasi lebih lanjut, dapat menghubungi kami di twitter (@SxCSummit),website (www.sxcsummit.com) , dan Contact Person kita (Rio : 085779328812).