MIST (Marketing Insight, Seminar and Training) FEUI 2015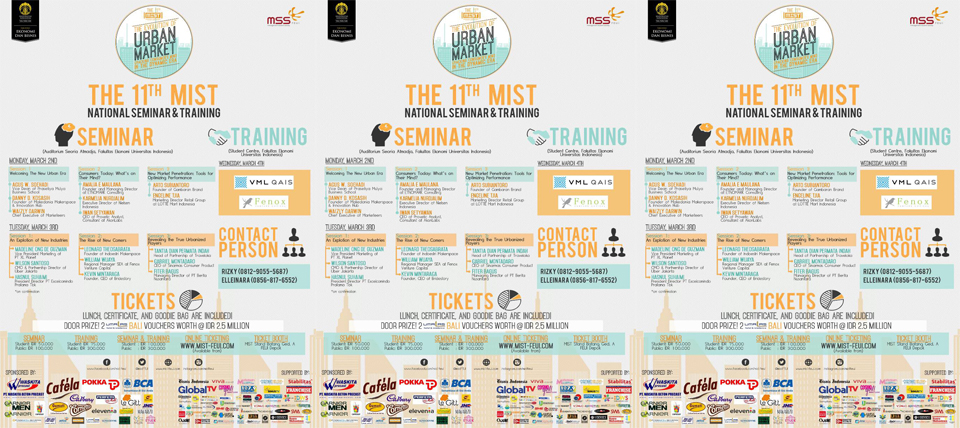 MIST (Marketing Insight, Seminar and Training) adalah rangkaian acara marketing tahunan terbesar yang diadakan oleh mahasiswa dan berada di bawah naungan Management Student Society Fakultas Ekonomi Universitas Indonesia. Rangkaian acara MIST sendiri adalah Seminar & Training yang terbuka untuk umum serta Conference & Workshop yang dikhususkan untuk para delegates.
Setelah 10 tahun menjadi jembatan antara mahasiswa dan marketing experts, seperti Anthonny Cotton yang merupakan Director of Starbucks Indonesia, Wempy Dyocta Koto yang merupakan CEO Wardour and Oxford, Google Indonesia dan banyak lagi, MIST kembali di tahun ini dengan tema"The Evolution of Urban Market: Cracking Consumer's Mind in The Dynamic Era" yang membahas tentang perubahan perilaku konsumen dalam perkembangan pasar urban.
Pada penyelenggaraan yang ke -11 ini, MIST kembali dengan nama – nama handal dalam bidang marketing yang akan menjadi pembicara pada seminar dan training yang menggenapi rangkaian acara MIST. Seminar yang terdiri dari 3 sesi akan diselenggarakan pada tanggal 2 serta 3 Maret 2015.
SEMINAR
(Auditorium Seoria Atmadja, Fakultas Ekonomi Universitas Indonesia)
Monday, 2nd
Session 1: Welcoming The New Urban Era
Igor Panjaitan* – Vice President of Bayerische Motoren Werke (BMW
Rhenald Kasali* –  Management Science Professor at Faculty of Economics, Universitas Indonesia
Arief Budiman* – CEO of McKinsey Indonesia
Session 2: Consumers Today: What's on Their Mind?
Amalia E Maulana – Founder and Managing Director at ETNOMARK Consulting
Karmelia Nurdjalim – Executive Director at Nielsen Indonesia
Iwan Setyawan* – CEO of Provetic Analyst, Consultant at AkonLabs
Session 3: New Market Penetration: Tools for Optimizing Performance
Roy Wisnu* – CCO of Lowe Indonesia
Christian Rijanto* – Founder of Ismaya Group
Engeline tjia – Marketing Director Retail Group at LOTTE Mart Indonesia
Katryna Mojica* CEO of Ogilvy & Mather Indonesia
Tuesday, 3rd
Session 1: An Explotion of New Industries
Madeline Ong De Guzman –Vice President Marketing of PT XL Planet
Jahja Setiaatmadja* – President Director of BCA
Wilson Santoso – CMO & Partnership Director of Uber Jakarta
Hasnul Suhaimi – President Director PT Excelcomindo Pratama Tbk
Session 2: The Rise of New Comers
Leonard Theosabrata* – Founder of Indoestri Makerspace
William Wijaya* – Regional Manager SEA at Fenox Venture Capital
Gregorius Bimantoro* – Founder of DrPro
Session 3: Revealing the True Urbanized Players
Yasuhiro Hayashi* – COO of Uniqlo Indonesia
Tantia Dian Permata Indah – Head of Partnership of Traveloka
Johnny Andrean* – CEO of Johnny Andrean Group
*on confirmation
Training : Wednesday, 4th
(Student Centre, Fakultas Ekonomi Universitas Indonesia)
Tiket dapat diperoleh dengan harga sebagai berikut :
EARLY BIRD (30 tiket pertama)
Mahasiswa (10% disc. dengan MSS Management Card)
Seminar IDR 30.000, Training 50.000
Seminar IDR 75.000, Training 275.000
NORMAL PRICE
Mahasiswa (10% disc. dengan MSS Management Card)
Seminar IDR 50.000, Training 75.000
Seminar IDR 100.000, Training IDR 300.000
BUNDLING PRICE (Seminar dan Training)
Mahasiswa (10% disc. dengan MSS Management Card) – IDR 100.000
Umum – IDR 300.000
Follow twitter @mistFEUI atau cek di website mist-feui.com atau cp : Rizky 0812-9055-5678 untuk info lebih lanjut dan terupdate.