DJAKARTA WAREHOUSE PROJECT 2014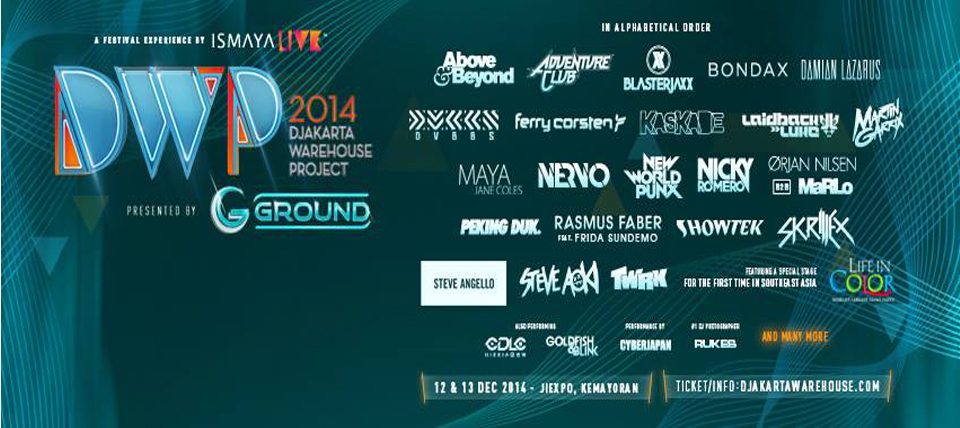 Let's all celebrate as DJAKARTA WAREHOUSE PROJECT is coming back to bring one of the biggest dance music festival experience in Asia!
Double The Days!
Double The Line-Up!
Double The Experience!
Yes, #DWP14 will happen on 12th and 13rd December 2014 in JIEXPO Kemayoran, Jakarta!
Featuring in alphabetical order:
DAY 1 – 12 December 2014
DAMIAN LAZARUS. FERRY CORSTEN. LAIDBACK LUKE. MARTIN GARRIX. MAYA JANE COLES. NEW WORLD PUNX. ORJAN NILSEN B2B MARLO. SHOWTEK. SKRILLEX. STEVE ANGELLO. TWRK.
DAY 2 – 13 December 2014
ABOVE & BEYOND. ADVENTURE CLUB. BLASTERJAXX. BONDAX. DVBBS. KASKADE. NERVO. NICKY ROMERO. PEKING DUK. RASMUS FABER feat FRIDA SUNDEMO. STEVE AOKI.
and also presenting a very special stage production:
LIFE IN COLOR
"World's Largest Paint Party" Indonesia
The first time ever in South East ASIA!
also featuring
CDLC (HIZKIA & wW). GOLDFISH & BLINK. CYBERJAPAN. RUKES.
AAY. ADHE. ANTON WIRJONO. ASTRONAUGHTY. AVVE. BIONIXXX. BONE. DEEFO. DUBYOUTH. EVAN VIRGAN. HOGI WIRJONO. HUDI. IAZ. JACQUELINE. JOPHY. JOYFUL NOISE PROJEKT. JOYO. JUSTEEN x SLIQQ. MIDNIGHT QUICKIE. NEV (NIDJI ELECTRONIC VERSION). PFN. RAMA. REWIND (CREAM x PDOUBLE). RRT LIVE. SOVA. STAN. TRILIONS. WINKY WIRYAWAN. BAM. CHERRYL. DRWE. DMFC. YACKO. DIGITAL HALLUCINATION. ISHA HENING & RIMBAWAN GERILYA. RPTV.
——————————–
BUY TICKET & INFO: http://www.djakartawarehouse.com/