INDONESIAN YOUTH CONFERENCE 2014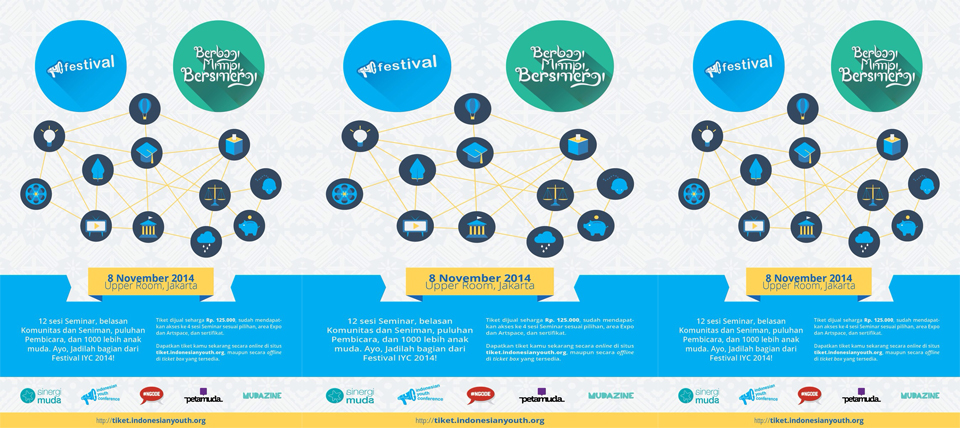 Mission
1. Menampung suara dan aspirasi anak muda Indonesia.
2. Meningkatkan kepedulian anak muda Indonesia terhadap isu-isu sosial melalui bidang yang mereka sukai.
3. Mempersiapkan anak muda Indonesia untuk mampu bersaing di kancah internasional.
4. Menghubungkan anak muda dari seluruh provinsi di Indonesia agar dapat saling meningkatkan kepedulian dan menghasilkan perubahan positif.
5. Memperkenalkan karya anak bangsa melalui media-media yang dimiliki oleh Perkumpulan
Description
Suara 40 juta anak muda Indonesia harus didengar. Suara anak muda harus didengar karena ada banyak anak muda yang peduli terhadap masalah-masalah yang dihadapi bangsa ini. Suara anak bangsa harus didengar karena mereka mempunyai banyak pikiran-pikiran brilian yang dapat memberikan solusi baru terhadap segala permasalahan yang dihadapi Indonesia pada abad ke 21 ini.
IYC ingin menyediakan forum bagi para anak-anak bangsa ini untuk saling bertukarpikiran dan mencari solusi bersama. Konferensi Remaja Indonesia memberikan kesempatan bagi mereka yang ingin suaranya didengar.
Dukung IYC! Klik 'Like' untuk mengetahui berita terbaru mengenai acara ini… termasuk kapan kamu bisa mendaftar untuk jadi peserta!
Dan juga, bantu IYC dengan suggest page IYC terhadap 5 teman yang sama pedulinya seperti kamu!
(English version)
To ignore forty million voices is simply not just. The voices of youth should be heard and taken into consideration seriously because there are a lot of youths who do take the issues of today seriously. There are many bright, young minds in all across Indonesia that can offer fresh perspectives and unprecedented solutions that might just be helpful for the country in facing the issues of the 21st century.
Indonesian Youth Conference aims to provide a forum for these bright, brilliant Indonesian youths to share their ideas and aspirations. It provides them the opportunity for their voices to be heard.
Become a fan of our page to stay updated on our latest news — including when will you be able to apply!
And also, help support IYC by suggesting this page to 5 friends who care as much as you do. However, if you've got more friends, send it to more!