Jakarta's first Halloween Outdoor Festival is here!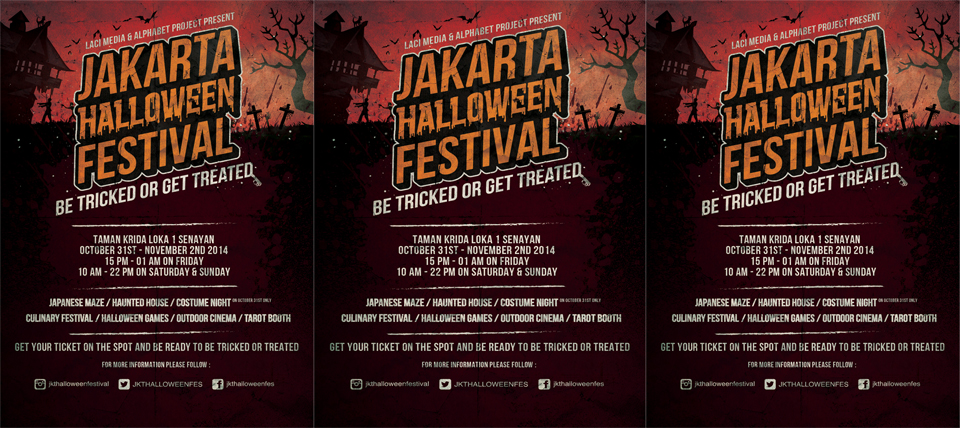 Jakarta (2014) – The 3days event will be held at Krida Loka 1 Senayan, Jakarta from October 31st to  November 2nd 2014. There are plenty of exciting attractions where you can choose whether you want to be tricked or get treated!  This event is divided into 2 main area, which are Scare Zone and Safe Zone.
Scare Zone
Those who are brave can directly head to Scare Zone. In this zone, visitors can visits two hair-raising haunted houses, called Slaughter House and one frightening Obake Yashiki Japanese maze. Inside Slaughter House, you will get to experience what it's like to be inside a butcher house. Meanwhile, inside the maze you will met the famous Japanese soul. Be careful or they will come along with you till you get home.
But it doesn't mean you are safe outside the attractions, because there will be many zombies roaming the park, you can never be safe in this area.
Safe Zone
But if you just want to chill in the park, you can stay at the Safe Zone. In this zone, you can devour delicious foods with more than 40 different tenants. Or you can watch enjoy our halloweengames such as idart, bull riding and many more.
Special Events
There will be different special events every day for all visitors to enjoy. On October 31st 2014, witches, zombies and ghosts are all invited to attend the Costume Night. Don't forget to wear your best costume to get special prize! On Saturday and Sunday, there will be eating competition from Zomato where you have to eat as much as you can to win the battle! Find also street illusionist and have your tarot card read that will give you other worldly experience to see.
We also collaborating with the famous Masih Dunia Lain program during this event! Shhh.. they will  also have open casting for their newest program.. Check it by yourself by coming to our event !
There are lots more fun activities for everyone, so make this Halloween a memorable one only at the 1st Jakarta Halloween Festival. Tickets cost Rp. 65,000 per person per day and can be purchased on the spot.
Jakarta Halloween Festival is open 15:00 – 1:00am Friday and 10:00 – 22.00 Saturdays and Sunday.
For more information about Jakarta Halloween Festival, head to @jkthalloweenfestival on Instagram and @jkthalloweenfest on Facebook and Twitter.