STOMP October 1st – 8th, 2014 by ISMAYA LIVE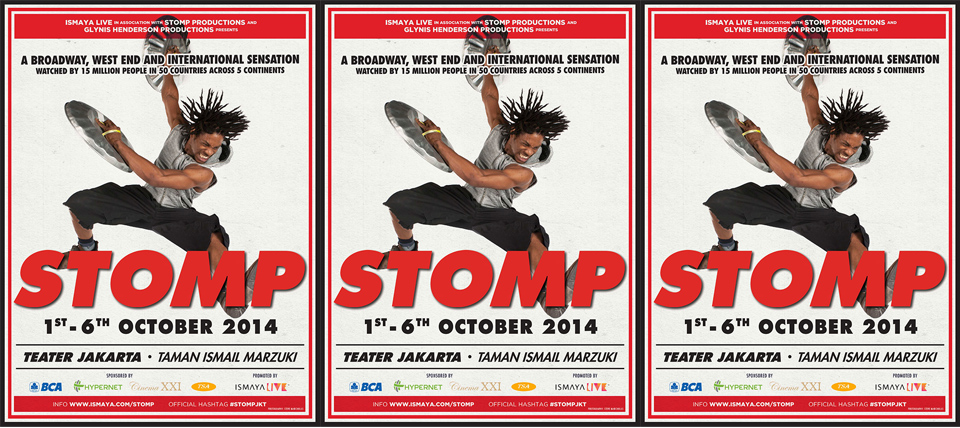 The Broadway, West End and International sensation STOMP is coming to Indonesia and it's going to be better than ever!
Wordless, witty and fun, STOMP has become a global phenomenon over the last 23 years. Its universal language of rhythm, theatre, comedy and dance has resonated with audiences throughout the world, setting feet stamping, fingers drumming and adrenalin rushing for over 15 million people in 53 countries across five continents. STOMP is currently playing in the UK, US, throughout Europe and South America.
Eight performers use non-traditional instruments – everything from supermarket trolleys to Zippo lighters, plastic bags to garbage can lids, and even the kitchen sink – to hammer out an explosively feel-good rhythm.
STOMP is a show that continues to evolve – with new music and choreography joining a fresh array of ordinarily mundane objects, onto which the cast work their musical magic.
This time, for the first time in Indonesia, STOMP will roll at Taman Ismail Marzuki, Jakarta – Indonesia, October 2014.
Two new routines that have been introduced in 2013 include "Trolleys" and "Frogs". "Trolleys" plays on the everyday experience of negotiating a busy shopping aisle with a fully-laden supermarket trolley, with the piece building to STOMP's first ever fully-fledged drum corps march: certainly an eye-catching spectacle. "Frogs" explores the bizarre sonic possibilities of a variety of plumbing fixtures: it has to be heard to be believed!
In another spectacular routine, paint cans are tossed between the performers, as they simultaneously build an astonishingly complex rhythm over every surface of the airborne cans. With the emphasis very much on 'spectacular', the Stompers are also joined by inflated monster truck inner tubes strapped around their waists to create both a dance of bobbing, whirling rubber skirts and pounding, portable drum kits – the ultimate redefinition of 'surround sound'.
Still remaining is STOMP's signature high-octane mix of slick choreography, tight ensemble work, industrial percussion, and continuous comedy; as the irrepressible troupe of eight performers turn brooms into soft shoe partners, clapping into intricate conversations and water cooler bottles into sophisticated instruments.
It is a unique and supremely clever idea, to create music from everyday objects and combine it with side-splitting comedy and intricate choreography to produce a polished theatrical performance, the likes of which you've never seen before.
STOMP has little or no melody in the traditional sense, so it doesn't matter if your taste in music is jazz, classical, dance or pop. The show has no words either, so it really is a show for everyone.