BIJAC No Tanjoiwai 7 : BIJAC No Matsuri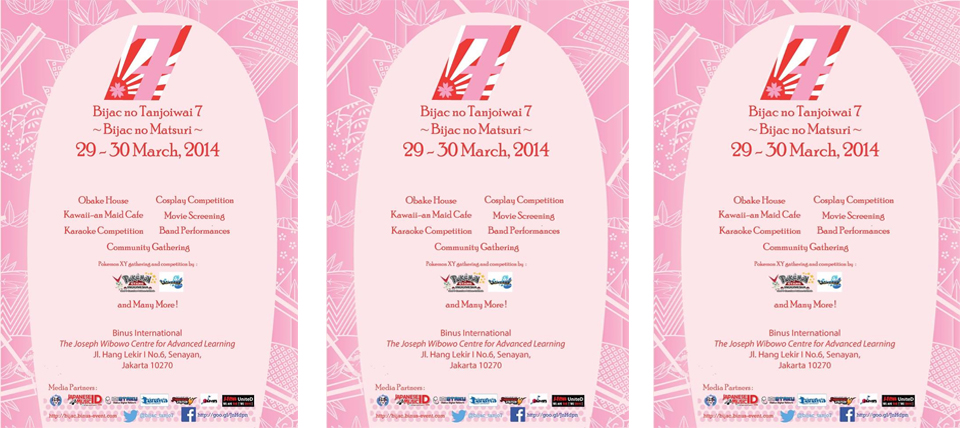 Come and Join us!!
BIJAC No Tanjoiwai 7 : BIJAC No Matsuri
COME and JOIN US !
Binus International University JWC BuildingJl. Hang Lekir I no. 6
29th & 30th March2014
IT'S FREE!
WHAT IS BIJAC NOTANJOIWAI 7 : BIJAC NO MATSURI? In general, BIJAC No Tanjoiwai 7 : BIJAC No Matsuriis a celebration of Binus International Japanese Culture Club's 7th birthday.In past few years, Bijac no Tanjoiwai is just an internal event thatparticipated only by Binus International students. But since the 5thand 6th , our event is open for public as mentioned in the tagline,"Matsuri" in Japanese means "festival" so we want to spread the celebration notonly to Binus International students, but also to anyone in Jakarta who loveJapanese culture. This event also showing that in Binus International there is"Bhinneka Tunggal Ika," Unity in Diversity. The theme itself bring the name ofBIJAC which are wide in range of Japanese culture. We bring you entertainmentof Japanese culture, look forward for our event!
WHAT'S ON?
KaraokeCompetition, are you confidence in your voice and singing skill to singJapanese Song? We hold the competition, you hold the Mic! Win over millionworth prizes!
Cp:         Albertus +62 812 861 5200
Selvie +62 819 3227 3663
Putri +62 857 7640 5155
Cosplay, as oneof Japanese culture, Cosplay is a must do event competition. Show us what youare made of!
Introduce us your favorite and original character! We are open forCosplayer. For the registration for the competition by online ( http://bijac.binus-event.com/?page_id=31 ) or CP : Deja 081399068854
Kawaii-an MaidCafé Adopting a Maid Cafe concept, enjoy BIJAC delicacy and café while yourfood is served by maid who serves you with their heart.
OBAKE YASHIKIThe most popular event in Japanese Matsuri, feel the thrill as we transformbuilding's classroom into thrilling Japanese-style ghost house.
YUGIOH! TRADINGCARD GAME TOURNAMENT One of the most popular TCG in Japan, we set up atournament that gather best duelist in one room held by our partner.
CommunityGATHERING : We collaborates with a lot of other Japanese communities!! Find outwho they are and stay tune! You can also be the part of the communities andjoin them.
Pokemon 3DS Gatheringand Competition : Another competition held by our partner from Pokemon StarsIndonesia and Cashern online stores. For Cp : Ken WhatsApp 081398123521 Pin bb7666B96A
Bandperformances, we invite featuring band and guests stars!
We also have Bazaar, movie screen and many more! Check on usregularly for more updates!
Facebook: https://www.facebook.com/bijaclub
Website : bijac.binus-event.com
Twitter : @bijac_tanjo7