The 3rd StudentsxCEOs Summit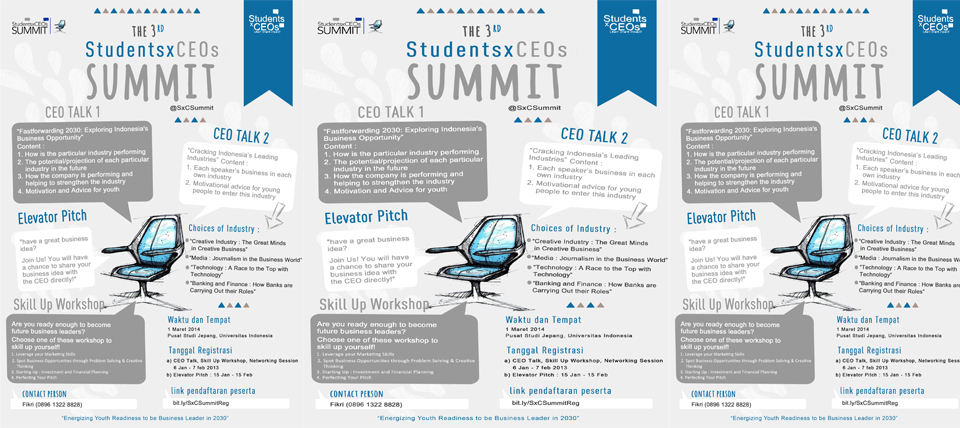 Komunitas StudentsxCEOs mempersembahkan :
The 3rd StudentsxCEOs Summit: "Energizing youth readiness to be business leader in 2030"
Acara :  CEO Talk, Skill Up Workshop, Networking Session, Elevator Pitch
Tempat : Pusat Studi Jepang, Universitas Indonesia
Waktu : 1 Maret 2014
Peserta : 100 mahasiswa dan 50 professional (hasil seleksi), serta 50 komunitas-komunitas seIndonesia
Pembicara : para CEO atau pemimpin bisnis serta para professional terkemuka se Indonesia
Tanggal Regis :
 a) CEO Talk, Skill Up Workshop, Networking Session : 6 Jan -7 feb 2014
 b) Elevator Pitch : 15 Jan – 15 Feb 2014
FREE regist, limited to 150 seats.
Link Pendaftaran : bit.ly/SxCSummitReg
More info : @SxCsummit atau @StudentsxCEOs
www.studentsxceos.com
Detail acara :
1.    

CEO Talks
Acara utama ini bertujuan untuk memberikan pembelajaran dan ilmu kepada partisipan melalui penyampaian pengalaman dan pandangan para praktisi dan CEO terpercaya.
CEO Talk 1: "Fast forwarding to 2030 : Exploring Indonesia's Business Opportunities"
Pada sesi yang kedua, peserta akan dibagi berdasarkan empat topik yang berkaitan dengan industri-industri bisnis di empat ruangan yang berbeda.
CEO TALK 2 : "Cracking Indonesia's Leading Industries"
 Pilihan industrinya:
"Creative Industry : The Great Minds in Creative Business"  for 75 participants

"Media : Journalism in the Business World"  for 45 participants

"Technology : A Race to the Top with Technnology" for 50 participants

"Banking and Finance : How Banks are Carrying Out their Roles"  for 30 participants
2.    

Workshop
Dengan mengusung tema "Skill Up", workshop ini akan membantu kalian untuk menyiapkan diri menjadi menjadi business leaders. Empat kategori yang bisa dipilih adalah :
1.      "Leverage your Marketing Skills"

2.      "Spot Business Opportunities through Problem Solving and Creative Thinking"

3.      "Starting Up : Investment and Financial Planning"

4.      "Perfecting your Pitch"
3.    

Networking Session
1.      "Private Conversation" : Hanya akan ada 1 peserta yang dipilih untuk bertemu secara ekslusif dengan setiap CEOnya.

2.     "Speed Date" : Sesi networking session yang akan dilakukan antar peserta.
4.    

Elevator Pitch
Peserta akan melakukan presentasi dengan waktu yang singkat dan Team The 3rd SXC Summit akan mengundang venture capitalist untuk menghadiri elevator pitch sehingga para start up yang idenya bisa tersampaikan dengan baik, bisa saja didanai oleh venture capitalist.